30 Popular KDrama Websites to Satiate the K-Dreamer in You
September 6, 2021
---
Disclaimer: The information given in this blog is for the sole purpose of educating the audience about the basic websites that offer Korean dramas and shows for downloading and streaming purposes. We do not, in any way, promote or encourage the distribution of copyrighted content and advise you to steer clear of such websites as you may end up in trouble if you try to visit them.
"Let me ask you something! You have been simping over Park-Seo-Joon in secrecy, right? I won't tell you if you won't."
No, that wasn't a monologue from some Rom-Com movie but what a conversation between "Sibdae Sonyeodeul" (teenage girls) sounds like ever since K-town celebs came into the equation. Korean Dramas have become the talk of the town, mainly due to the meos-issneun (fine) actors and actresses.
Korean dramas and shows have seen a significant rise in their popularity across the globe. People from all different parts of the globe have been spending tons of money on merchandise and subscriptions for Korean dramas.
Apart from the extraordinarily good-looking casts, Kdramas have a great storyline and plot twists that intrigue the viewers in plenty of different ways.
OTT platforms offer a good enough collection of Kdramas but not every other user likes to spend money on entertainment. This is why there are tons of Kdrama websites where one can watch and even download content for free.
So, if your Oppa/Noona (older brother/sister) insisted that you give Korean dramas a try and now you feel hooked, we have some of the best Kdrama websites where you can stream and download Korean dramas without any issues.
Also Read: 15 Working Alternatives to KissCartoon
But before we begin, why on Earth is everyone drooling over Kdramas these days? Let us take a look.
Why are Korean Dramas taking over?
Charming actors
It wouldn't be wrong to say that Korean actors are the epitome of beauty. The age of the audience of Kdramas lies somewhere between 18-30. Kids and adults in this age group love watching handsome guys and beautiful girls on their screens.
Different culture
This can be considered as a potential reason if not a major one behind the popularity of Korean dramas and shows. Dramas have a significant cultural approach which makes them quite interesting. Watching foreign movies can help the viewers to learn a lot about their culture. This is why many people watch Korean dramas to expose themselves to Korean culture.
Clean and clear content
One can easily watch Korean drama with friends and family since there is nothing that can be deemed vulgar or inappropriate for the audience.
Now that we know why people are going gaga over Korean dramas and shows, let us now take a look at some of the best websites that one can access to download and stream the Kdrama of their choice.
Top Websites to Stream and Download Kdrama
Starting the proceedings, we have a website that comes with a pretty organized and filtered way of showing lists of drama shows. When it comes to the interface and user experience, there aren't many websites in the world that can come with this one.
Although it is a great place for Kdrama fans and is good enough to serve the main purpose, it lacks a bit in the aesthetics department. All of the content available on here is free and one doesn't even need to sign-up on here to access all of the content.
It is pretty safe for you to use except for the part when adult rate advertisements pop up in quick succession. It even offers subtitles and high video quality which makes the user experience even more wholesome.
There might be a couple of shows that are not available in the best video quality, but apart from that, it is a great place for people who admire the Korean entertainment industry.
At number two is a website that is generally referred to as more of a database than a website when it comes to streaming Korean drama. It offers users access to exclusive Korean content and to add to that, it is independent, meaning that there are no third-party links.
Not only links, but it also offers a quick synopsis along with the cast of the story with every link. Quality subtitles and a wide range of content make it stand out as a website. Even though it only offers links, Hancinema has seen significant growth in its fanbase. One can safely access all sorts of Kdrama, be it new or old.
It even offers a newsletter feature that the users can subscribe to, to get updates and news to stay notified. Constant ad pop-ups are probably the only thing that comes off as a buzzkill whenever a user accesses this website.
Similar to the sites mentioned before this one, users get tons of dramas at their disposal to watch and download without much fuss. Regular updates and subtitles are available in abundance here.
The best part about it is that the subtitles are so clear that even non-native English speakers can also follow the plot without putting in much effort. Majorly the website of BoxAsian offers Chinese, Taiwanese, and Cantonese drama with good subtitles and brilliant video quality.
The good thing is that it is completely legal and safe to use. Apart from this, you do not even need to sign-up to access your content, thus also making sure that your personal information remains protected at all times.
Number 4 on our list contains most of the Asian drama and not only just Korean drama in its one-of-a-kind library. If you like to binge-watch or are on the lookout for a classic drama, the detailed user interface that is pretty simple to use can help you in doing so in almost no time.
The total number of episodes along with the description is always on display just below every poster. This way one can simply search for the content of his or her choice, also saving themselves a bit of time in the process.
Along with the content and services, accessing it is quite simple and safe as well. It is available in tons of different nations for free. One doesn't need to sign up here to access the content and the advertisement issue rarely arises here.
A subscription-based Korean drama site that has all the things that a fan can ask for. Yes, we are talking about the legit website of Kocowa. Although the website is great when it comes to downloading shows and streaming them, one can only experience the best of it if they decide to buy the premium subscription.
Sadly, for fans all over the globe, it is only accessible in South America and North America as of now. But for the people who can access it, they are offered content with instant updates and quality subtitles along with amazing video quality.
The thing that separates it from other websites is that shows get uploaded on here within 24 hours of telecasting which is part of the reason behind its popularity. Simply become a premium user to enjoy your Korean sessions.
Step aside commoners, the international king of Korean entertainment is here. Dramabus is a sort after website where users can access Korean dramas with high-quality video and subtitles in an instant. Even though it majorly focuses on TV shows, it also has an impressive number of dramas that can be accessed with relative ease.
It is a delight for people to access, mainly because of the steady flow along with a simple yet clean user interface. With the latest inclusion of Asian languages, it has seen a significant rise in traffic along with the viewers.
One can simply access the trending drama and shows, thanks to a separate feature that it offers. This in turn makes it easier for the users to keep up with new Korean shows.
Since we have been talking about websites for a while now, let us switch it up a bit as we bring our very first OTT platform on this list. Hulu is a great place for people to download and stream videos, some even considering it to be on the same level as Netflix.
The thing that makes it stand out when compared to other lists is there is little to no difference when it comes to paid and unpaid users. Most of the dramas on here are available in stunning audio and video quality. Not only this, but the subtitles available are top-notch as well, making it easier for the users to follow the drama.
The dramas available on the list here solely depend upon where you are situated and the kind of subscription that you have opted for. The only reason why it isn't considered an elite site is simply due to the unavailability of certain dramas.
The latest place for Korean fans to binge-watch and adore the celebrities that they follow. MYAsianTV has caught the attention of users worldwide, mainly due to the availability of the content at a rapid pace. It is completely legit and can be accessed in almost every major nation.
Downloading and streaming content on here is pretty easy as well. The content menu and the user flow have been carefully designed by keeping several different aspects in mind.
The only downside that one can think of for this website is that not many older dramas are available on here.
At number 9, we have a traditional Korean drama website, ranking among some of the best if not the best drama sites on the internet. It offers a wide range of genres with a great user interface which makes it pretty simple to use. The design of this website is also considered as one of the best out there.
It offers a brilliant set of shows and dramas with good subtitles which are easy to read as well. Even though it has so much to offer with its quality content and a top-notch interface, the domain of the site gets changed often. This change in the domain makes it quite hard for the users to find the correct website to access the content.
As we move into the double figures, in comes a site that is famous for the quality and not for the quantity of content that it offers. It even offers quality subtitles that are easy to read too. One doesn't need to sign up here and all of the content on here is free.
Although its user interface is quite difficult and unclear to use. It wasn't designed to please the fans in the first place, but it does get the job done. One can safely make the best use of this site to download and stream the content of their choice.
The best part about this site is that the user info remains confidential, offering you a great experience.
With over 1000 selected movies from countries all over Asia. Although it is only accessible in North America for the users to access safely. To have a better experience, one can switch to premium to block all advertisements along with better video quality.
Good accurate subtitles also make it easy for the users to follow the drama with relative ease. It even offers instant updates for new drama. With reliable audio and video quality and delayed but decent subtitles, it becomes a must-visit website for Korena fans.
It is a somewhat decent site with a wide range of genres and drama lists. The flow of the site is also better than most along with a plain user interface that makes it easy to use. One can even access the content offline as well, making it a special feature for Korean fans.
When compared to other websites, it offers re-uploaded subtitles which can often lag or may not match with the show. All in all, it is a pretty good site with a couple of flaws, but don't let that stop you from having a good time.
One of the most famous sites on the internet for Korean drama, thanks to the brilliant advertising expertise and the exceptional ability to pop up almost anywhere. The website is similar to all the others mentioned here, that is, it also offers stunning video and audio quality along with subtitles that are easy to follow.
The search part becomes a bit complicated due to the complex user interface of Kdramahood. It is also quite exhausting since there is no genre-based search available, meaning that the users will have to search from different genres manually.
Also, there are only a few servers available here. This also causes hindrance in your streaming experience as the flow of the drama may get disturbed more than a user would like.
One of the only sites other than Netflix that owns the copyright. Viki has more than 200 Korean dramas available for the users and only some selected dramas are labeled as "Viki originals" for promotional purposes.
Both free and paid options are available for the users. While the free version offers great content, the paid does the same but without the interruption of ads. It is completely legit and also has an application that is used for both android and iPhone platforms.
Sadly, users can only stream on here and not download the content of their choice.
Are you still reading? Well, not everyone can be as good as Netflix when it comes to making taglines and offering a ridiculously good list of Korean dramas. It is known for the great quality of subtitles that it offers to make sure that the users get a great experience.
The site is paid and available in almost every nation. Before accessing this site, one simply needs to sign in and pay for the subscription. It even offers Asian drama and not just Korean drama to the fans.
It is also popular for the security that it offers and the user interface is probably the most sought after on this list. One can even download content to watch and enjoy offline if one loves to watch a couple of episodes on the go.
A premium site that comes with several advantages. That pretty much sums it up for VIU. It has one of the most stacked libraries in terms of drama and content. One can watch the content of their choice without any sort of subscription or account on here.
It even has content for offline use and the audio and video quality is far better than what most sites have to offer. Apart from the stunning audio and video quality, it even has a pretty amazing user interface that makes it simple for the users to explore through the site.
On-air dramas are also uploaded here regularly and many consider it to be the safest place for drama in K-town. This is a must-visit site for the users who are trying to find an illegal site to watch the dramas of their choice.
With an impressive and evenly distributed genre section and quality dramas, DramaCool justifies its name in every sense of the word. Users find it quite easy to navigate between episodes and the site offers great quality drama as well.
Just like most of the sites on this list, the video and audio quality are top-notch on here too along with the fact that the content on here is free for use and one can access it without any sign-in processes.
It is filled with eye-catching aesthetics with a similar user interface that makes the user experience even better. To top all this, it is also completely safe and secure for underage kids when compared to other sites which makes it a fan-favorite among the appreciators of Korean culture.
And the Drama continues. With a name similar to the site mentioned above, this one comes with a pretty different yet effective search technique which makes searching easier than ever before. Even though the site doesn't have much to offer in terms of drama, it makes up for this with the aesthetics, the audio, and video quality along with the subtitles.
It is safe to access and legal in most countries worldwide. The only setback of this site is the advertisement and pop-ups that may spoil your binge-watching session.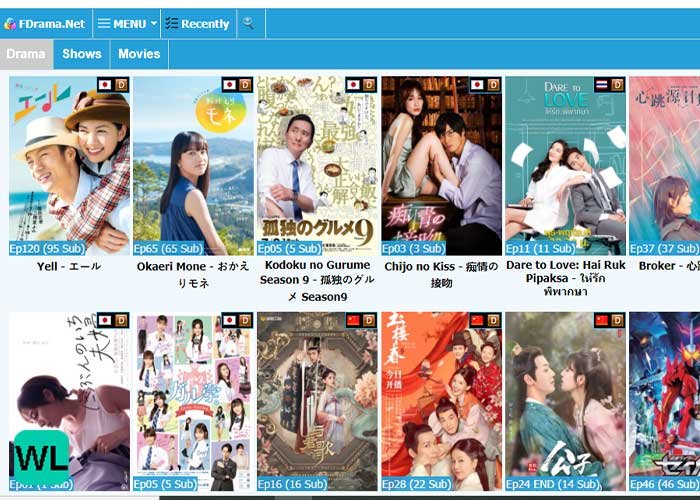 At 19, we have ourselves a website that is known for great video quality along with a decent list of drama that is available on it. Most of the famous dramas are available on here and it is completely safe to use for people from all parts of the world.
There is no need for any sort of sign-in or registration process. All in all, the site is pretty user-friendly, although the ads that appear on here cannot be skipped so one has to go through the whole ad which can kill the mood of the users.
Of all the sites on this list, number 20 seems to be the best when it comes to offering Korean drama for free. With a clean and steady user interface and a collection of drama that is better than most top-notch sites, KissAsian is a joy for people who love Korean drama.
Not only does it offer a wide range of content to choose from, but it also doesn't compromise with the quality of the content, be it old-school vintage dramas or the next generation dramas. Good quality subtitles are regularly updated here as well. It is accessible in most countries around the globe.
Many consider it to be the uncrowned king of Korean drama websites. Simply visit it to get started with your 몰아보다(binge-watching session).
Another amazing site where you get to watch Korean and other Asian movies and dramas. Tencent video's very own streaming platform has been making headlines ever since it came online way back in 2019.
To everyone's surprise, it became popular, not only in Asia but in other parts of the globe as well. Since it is still a pretty new site, it has fewer shows, but more new shows are getting added rapidly. Not only a website, but it also has an application that is used by plenty of users.
For a website that is paid, it sure has tons of free content for the users to enjoy.
While most of you know number 23 as a simple messaging platform, it only recently came to the attention of users that Telegram has become the home of entertainment for people from all parts of the globe.
There are tons of channels available on Telegram that upload content every day. Dramas are also available here with relative ease. Just access the search bar of the platform and type the name of the drama. A list of channels will pop up and you can select any of those channels to watch the drama of your choice.
Apart from Korean dramas being available with English subtitles, subtitles are also available in many other languages which makes it easy for the users to watch Kdrama in the language of their choice.
DramaDay is a bit different from the sites that are listed here. One can only get access to downloadable Korean drama on here since it doesn't support online streaming.
Links from popular sites such as MEGA, Google Drive, Uptobox, and ZippyShare are available for people to download Kdrama. Users can select from a wide range of video quality for Kdrama episodes that range from 540p, 720p, and 1080p.
This can also help you to save the storage and data on your device. The links available for downloading are also high-speed and to top all this, one can even download the original soundtracks of dramas, be it a whole album or a single track. A feature that is not offered by any of the sites mentioned on this list.
The only setback is that the subtitles are not available for the videos and users will have to download them through an external source. But do not worry since a link to download subtitles is available on the very next page.
This website looks more like an application rather than a website where one can stream their favorite dramas. Words cannot describe how smooth and mobile-friendly the user interface is. One can navigate to the content of their choice within seconds.
Dramas from other regions of Asia along with Korean movies are also available here for free. Apart from occasional ads that appear before the streaming of an episode.
If it all falls down and you are unable to access any of the sites mentioned above, this one will always be available for you. It gets regularly updated and has a great collection of Korean drama that is available with English subtitles.
It comes with a mobile-friendly user interface and loads pretty quickly as well. One can choose from several different servers to watch Kdrama episodes. Every drama also has a comment section for the users to express their views.
Apart from dramas, Korean movies are also available for the users here for free. Tons of other dramas such as Chinese, Thailand, Japanese, and Taiwanese can also be streamed on here.
So, to sum it all up, it is a great website with the only problem of ads that one has to bear with.
Just as the name suggests, view Asian dramas. It is often deemed as a backup site for DramaCool and other prominent websites. It has almost all of the major dramas and movies that one can access for streaming and downloading without paying a penny for it.
A wide range of servers is available on here to watch drama so you can choose a different one in case things don't go well with your first preference. Similar to every other site, users will see ads but these ads are a necessity for the owners if they want to keep the site up and running, so one has to bear with them.
It even has a community feature that allows the users to comment and reply to other users' comments as well on every drama page. This sort of feature makes it easy for newbies to choose the shows that they should watch.
Is there anything that isn't available on YouTube when it comes to entertainment? The popular streaming platforms offer tons of Kdramas to watch and download as well for free. Mostly these dramas are uploaded by none other than the official South Korean TV channels, part of the reason why you can also find subbed episodes.
Two major channels offer full dramas for the users to watch, namely, SBS World and KBS World TV. All of the episodes that are aired on these two are free to watch for every user on YouTube.
Here is a list of some of the most popular dramas that are available;
Dr. Romantic
Pinocchio
The Heirs
My Strange Hero
My Girlfriend is a Gumiho
Master's Son
Fight For My Way
Rooftop Prince
The Last Empress
I Can Hear Your Voice
Secret Garden
As we come down to the final three, the Drama supremacy continues. This site is way ahead of almost any other website on the internet in terms of layout and user interface. The ingenious pink and white theme makes the homepage look no less than a thing of beauty.
It is stacked with both new and old Korean dramas along with subtitles to make sure that users get the best of everything. As a Kdrama fan, this is heaven on Earth.
The penultimate mention on our list is considered by many as the hub of all Korean, Asian, and Japanese dramas. Every mainstream drama ever made is available on here for the users to stream and download.
With a user-friendly design to provide the best user experience, there aren't many downsides to this site except for one, that is, it isn't accessible in all parts of the globe.
How can we forget one of the most popular places to watch Kdrama? Prime is a mainstream platform for content streaming and is filled with a substantial amount of Korean drama with English subtitles.
When compared to other sites, the collection may seem small, but it overshadows everything else with the video quality. Apart from Korean dramas, one can also enjoy Korean movies on Prime.
It even has a mobile application that is compatible with all sorts of operating systems and luckily for you, once you buy the prime subscription of Amazon, you will be able to stream without any interruptions.
And there you have it. These are some of the finest platforms that one can access to stream and download Kdrama episodes. If you ever feel like these are not good enough or too difficult to explore, you can look for similar sites available on the internet that offer Korean and other Asian dramas.
Now that we know about the websites that offer Korean drama, let us take a look at some of the most commonly asked questions regarding Korean drama and shows.
FAQs
Q.1 What can I do if Korean drama sites are blocked?
Ans 1- You can make good use of a VPN or a proxy and mirror website if for some reason you are unable to access any Kdrama site since most of these websites are banned in several parts of the world due to legal reasons.
Q.2 Why are Korean dramas so popular?
Ans 2- Similar to all other shows and serials, Korean dramas are popular due to the intense, engaging, and emotional content that they offer.
Q.3 Why are Korean drama websites shutting down recently?
Ans 3- Ever since Korean dramas and shows have seen a significant rise in popularity, tons of illegal websites have surfaced on the internet. It is common knowledge that the distribution of copyrighted content is considered an illegal activity. Many producers and filmmakers have demanded that strict action should be taken on such websites that offer such services.
Q.4 Where can I download Korean drama's English subtitles from?
Ans 4- One can get English subtitles for Korean drama episodes for free on sites such as KissAsian, QuicKdrama, MyAsianTV, and DramaCool among many others.
Conclusion
These are the top 30 Korean drama websites that can be accessed by users to stream and download the content of their choice.
Korean culture isn't at the center of many things but it is slowly getting recognition, majorly due to the entertainment industry. There are plenty of websites that one can access to download and stream Kdramas without any issues. So, the next time someone asks you "Where to watch Korean dramas for free", simply point out one of the websites mentioned in the list to get the best of Kdrama. I hope this blog has everything that you were looking for. Pyeonghwa (peace out)!