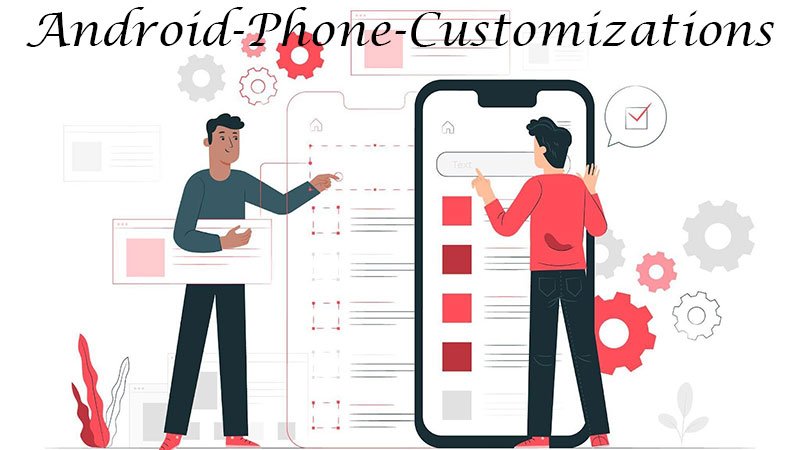 Want to be Amazing at Android Phone Customization?
December 1, 2021
---
One of the leading benefits of Android over iOS is its customization feature. Android phones are always strong in this aspect, and it is continuously becoming strong. Android phone is currently the most popular mobile operating system. Due to its customizable functional system, applications related to language customizations are also high. For a change, various apps are available, but the best app is the Marathi Keyboard apk. 
You can find multiple apps on the Google Play store, but we have compiled a list of amazing Android phone apps here.
Gboard or Swift Key 
These two are arguably the two best keyboards app for android phones. Both apps have extensive theme choices, attractive features, tying, and other multiple features, but the experience is quite different between these two keyboards. Gboard is relatively easy with more mainstream functions, while SwiftKey is tiny user – friendly. In case you use your keyboard a lot, and you can customize it however you want. It is a great place to initiate if customization is your purpose. Both apps are free to use without an ad.
Reddit
Reddit is a good app for many customizations. Many subreddits are explicitly designed for this task, including one of the famous customization apps like IFTTT and Tasker, along with generic Android themes with enormous home screen ideas. Many posts tell you or show you how to achieve a particular effect, those apps to download and how to install everything. There is icon package like KWGT templates, wallpapers, and anything that you can think of.
Bharat Bangla Keyboard App
It is the best English to Bengali keyboard with AI innovations features, and it has multiple feature options like voice tying in Bengali. This app catches your words and type on behalf of your on your screen. These make your work easier. You can also add a personalized touch to your English to Bengali typing keyboards with this fun feature. You have to select unique themes in the Bangla keyboard section or use any image in your gallery as your theme. This keyboard has an excellent free BigMoji that makes your conversation more interesting or conveys your emotions.  
Volume Style
Many android phones have more thinly and unattractive volume panels, and you are not comfortable with it then the Volume style app is for you. This application enables you to customize the volume panel in your phone and also allows you to edit it more extreme. If you like Xiaomi's MIUI volume panel but are not using Xiaomi's hone, but there is no issue with it, you can get it.
In this, multiple options are available, and you can get volume panels from Android 10, iOS 13, Xiaomi's MIUI, and many phones. It is a genuinely helpful app that can make you more productive by adding a useful volume panel to your phone.
Energy Ring 
If your phone displays camera holes, then this app is another nifty app for customization. Many new phones contain a hole punch or display camera hole, so what does it do? Well, this app enables you to put a battery signal bar around the hole punch. It will capture attention to hole punch, so if you are avoiding it, then this app is not for you. With this, you can check battery status all time. However, this phone is not compatible with every smartphone.
Tasker
Many people say that Tasker is the most powerful customization app in the play store. However, it is also correct as it can perform several functions for you. You can use this app to automate work to the extreme. You can also use it to create new actions and much other stuff. For instance, you can build triggers for actions via launcher shortcuts, widgets, long-pressing buttons, and many more.
This app is not powerful but extremely easy to use. It provides many features and details that you can tweak. You can also increase its functionality via the help of another app that is made for it. Rooted Phones can get more use from Tasker, but if you are not rooted, this app gives immense levels of customization.
IFTTT 
IFTTT is short for if, this that and all about automaton. There is some 630 app that works with IFTTT. Some of the apps are Twitter, Google Drive, Dropbox, Telegram, Amazon Alexa, Google Home, Slack, and many more. You can create all kinds of automatic tasks, or you can download them from IFTTT's repository. People have used the app for a long time. It is easier to use than Tasker, and it serves a different purpose.
Shared
It is one of the unique customization apps. It manages with something instant that comes up whenever you share something. This day the prompt shows a list of apps along with a random list of your favorite contacts. Shared creates order to confusion. You can customize the prompt to only those app whom you want and remove the random contacts. It takes time to set up, but this makes the sharing work process easier after you put the time into customizing.
Nova Launcher
Many people are pretty familiar with Nova Launcher. It is one of the best-known Android launchers and the most famous one. Nova Launcher has been a long-staple of customization on Android, and now it is more updated. It allows you to use many gestures and set them to perform anything you want.
It also enables you to edit animations that you are using. You can also edit grid sizes, edit folders, hide unused apps from the app store, streamline them into folders, and many more.
Stylish
Stylish is a full-fledged customization app for android phones. It allows the users to create their own unique experience on Android with custom settings. Using this app, you can customize the navigation bar, switch colors, change icons backgrounds, add custom battery indicators, etc.
Conclusion
We have shared the best ten customization apps for Android phones. You can use this app and give your smartphone a new look and manage your work with ease.