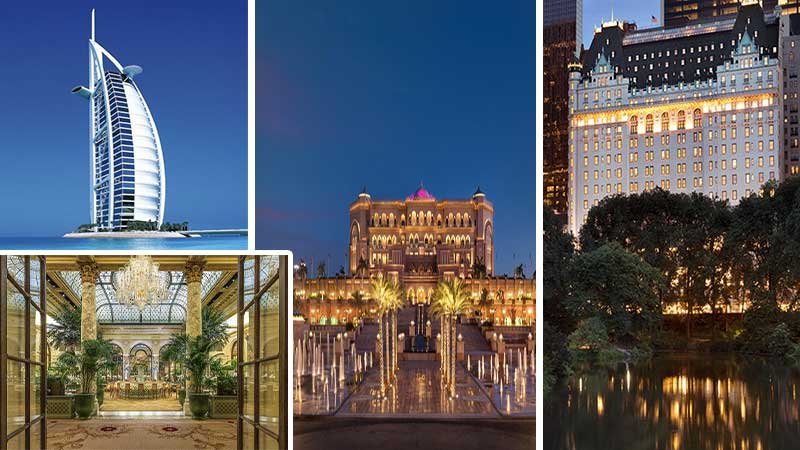 The Top 7 Most Luxurious Hotels in the World
November 21, 2021
---
Are you looking for a once-in-a-lifetime experience staying in one of the world's best luxury hotels? Then you've come to the right place because this short guide will show you seven of the finest hotels you can find worldwide.
Whether you are looking for somewhere comfortable to spend a business trip with your boss or want to treat your loved ones to an unforgettable vacation, a luxury hotel is perfect.
You'll even find some with their own rooftop helipads, so if you've always dreamed of arriving in style in a luxury helicopter, now is your chance! From artwork by some of the world's most famous artists to three-Michelin starred restaurants, there are indulgences of every kind in these awe-inspiring hotels.
Consider Reading: Your Guide to Hotel Branding and Marketing
1. Burj Al Arab
Not only is Dubai's Burj Al Arab one of the tallest hotels in the world, but it's also widely considered one of the most luxurious and extravagant.
In fact, the Burj Al Arab, modeled on a ship's sail, is said to be the world's only seven-star hotel. So, if a regular five-star luxury stay isn't enough, consider booking a night or two here!
Some of the extravagant features you can find here include a dedicated 'pillow menu' so you can ensure you sleep in maximum comfort. Similarly, you can travel to the hotel in style in a chauffeur-driven Rolls Royce. The gilded walls exude opulence, and you'll even be given a golden iPad to check out the hotel's services upon arrival.
2. Emirates Palace
Staying within the UAE, we have the Emirates Palace. Although it might not be quite as infamous as the Burj Al Arab above, the Emirates Palace has some very impressive features. Of course, you'd expect nothing less from a hotel that cost around $3 billion to construct.
At the Emirates Palace, you'll find over 1km of private beach to relax on as well as a private marina to enjoy trips on luxury superyachts. If you prefer plant life to sea life, you can take a stroll through the gardens or book a room with stunning garden views.
While you can enjoy the best Arabian culture has to offer during your stay at the Emirates Palace, you can also indulge in a huge range of cuisines from around the world in one of the hotel's many restaurants. So whether you fancy a camel burger or a traditional afternoon tea, you'll find it all here!
3. The Palms
The famous Las Vegas strip isn't short of hotels, and many luxurious ones at that. However, the one which stands out as one of the best is The Palms.
Some of the suites at The Palms are simply incredible. Sports fans looking for a once-in-a-lifetime experience might like to consider booking the 10,000 square foot Hardwood Suite. Here, you'll find a private basketball court, complete with a locker room, a pool table, and a massive 11 TV screens to watch the latest sporting action.
If you're looking to party, head to the rooftop nightclub or check out the scotch whisky collection worth a staggering $3 million. Artwork from some of the world's most renowned artists, such as Basquiat and Warhol, adorn the walls of The Palms.
4. The Plaza
The Plaza has long been one of New York City's most famous landmarks, having been visited by a parade of famous faces, from Broadway legends to powerful world leaders.
Despite opening well over 100 years ago, The Plaza offers some stunning decor and incredible facilities. If you're looking to enjoy a cocktail or two during your stay, you'll find them in The Rose Club. However, from an elegant afternoon tea to children's favorites, there are dining options here for every member of your party.
5. Mandarin Oriental
If you're looking to head to the Far East for your luxury retreat, the Mandarin Oriental in Hong Kong is our number one choice.
The Mandarin Oriental boasts over 500 suites and rooms, each offering impressive views over the surrounding harbor and cityscape. Inside the hotel, you will find all the facilities you'll need for both business and leisure stays, all finished off in a chic, modern style.
The facilities are similarly modern, making use of the latest technologies, and the dining experience is second to none. From an international buffet to a classic French patisserie and traditional Cantonese to Japanese izakaya, there is a dining experience at the Mandarin Oriental, Hong Kong for everyone.
6. Four Seasons Private Island
If staying in one of the world's finest hotels isn't enough, why not take it a step further and rent your very own private island instead?! Up to 22 guests can stay on the island, and with 28 staff also on hand, your every need can be taken care of.
Not only will you enjoy the unique experience of staying on a private island, but you'll also have access to a luxury yacht during your stay. You'll stay in one of seven luxury suites within the gorgeous beach house, surrounded by the Maldives' famous crystal clear water, should you fancy a swim.
7. Titanic Mardan Palace
Turkey might not be the first destination you think of for a luxury stay, but the Titanic Mardan Palace is just that. There is something here for every palate, with all-inclusive dining options available at the nine a la carte restaurants.
If you prefer a more active vacation or are bringing the kids along for a taste of luxury, head to the five-acre pool area. Or, if you prefer to take it easy, there's a spa, sauna, massage area, and more.
The decor throughout the Mardan Palace is stunning, with elements including an extravagant, five-story glass ceiling inspired by a Turkish palace. Bathrooms are made from marble for a classic elegant feel, and you'll even find aquariums throughout the impressive building.