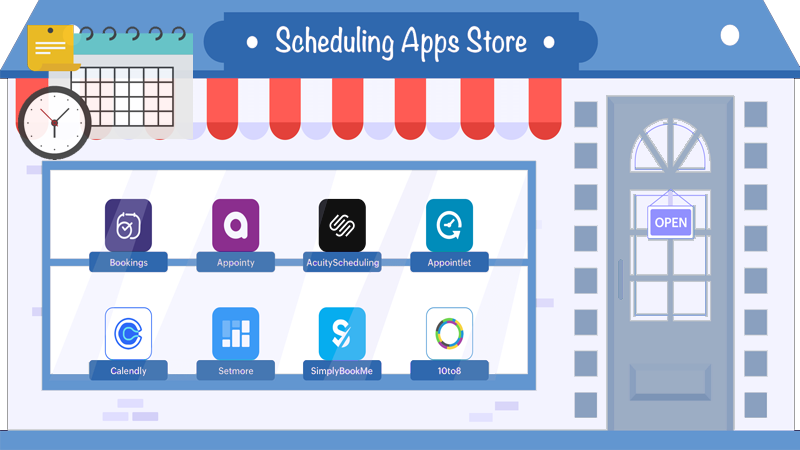 The Best 5 Appointment Scheduling Apps and Booking Software
June 8, 2022
---
Scheduling meetings, managing client bookings, rescheduling appointments, and other such preoccupations can consume a lot of your valuable time. They are not only overwhelming but also hold you back from gaining new business opportunities.
However, you can oversee your work calendar effectively using scheduling apps and booking software. They automate your meeting schedules with existing and potential clients.
Their main aim is to reduce your sales cycle length, but you will also be highly relieved from the hefty administrative tasks through their assistance. All successful companies use scheduling and booking tools due to their time-saving and cost-effective nature.
So, here are the 5 best tools for scheduling and booking.
5 Best Tools for Appointment Scheduling and Booking
The best appointment scheduling and booking apps should sync with your work calendar. They should send you reminders to keep you updated on appointments to ensure you do not miss out on any opportunity.
Calendar integration, customization, flexibility, and business integration are some of the essential features you must look for in good software. Finding the right tool that meets these requirements and also caters to your needs is imperative.
Hence, here is a list of the 5 best tools that you should not miss out on.
Missed
Missed.com is the best invoicing and scheduling software that makes online appointment scheduling easier than ever. You can automate appointments, join video conferences, and, best of all, the payments are sent directly to your bank account.
It gives you access to innovative and helpful features such as browser-based video conference that facilitates whiteboard, screen share, and call recordings. You can control your appointments and manage your clients using the appointment scheduling calendar.
So now, set up personal booking links easily with real-time availability, reviews, and vacations. The software also allows you to enjoy seamless payment processing with features such as payment history, credit cards support, and auto-charge.
ScheduleOnce
ScheduleOnce allows potential clients and customers to pick a time slot of their availability for the product demo or introductory phone call after they fill out the "Contact Us" form.
This prevents the hassle of waiting for a response from them and allows businesses with large lead pools to connect prospects directly with the right contacts. This is because the tool automatically assigns the appointment to the appropriate contact and keeps them notified about the same.
Calendly
If you are looking for simple and easy-to-use software, Calendly is it. All you need to do is create calendar rules and enable clients to set up their appointments once you share the link on your scheduling page.
The software automates most of the administrative tasks, such as sending reminders and follow-ups through email, which allows you to divert your focus to growing your business and retaining clients.
Excess email exchanges can also be eliminated through this tool because your clients will see your time availability, the length, and the type of meeting scheduled. It can integrate with all primary calendar tools easily, and you can also customize your scheduling abilities as per your needs.
Appointlet
Appointlet is a handy tool if you want to book unlimited appointments in a wide range of native languages, including English, Italian, German, Spanish, and Dutch. You can collect the information of your prospects during the booking and take payments accordingly.
The scheduling page link can be published on your website, emails, or various landing pages. The tool will automatically update the calendars of you and your clients once they schedule an appointment with you. Since it works on all devices, clients can schedule meetings from anywhere.
The tool also recognizes varying time zones. So, you can schedule a long-distance meeting too. You can protect your downtime by creating long vacations or short breaks on your scheduling page.
SimplyBook.me
If you run a business that caters to a global audience, you need software like SimplyBook.me, which allows you to schedule appointments in 14 different languages. Some of the languages available in the software include English, Spanish, German, French, Korean, Russian, etc.
Thus, it enables all of your clients to schedule appointments with you quickly, no matter where they live. You can find all of your providers, available times, and services in the interface.
From making an appointment to enrolling in a membership, clients can find what they are looking for easily and instantly. It can also adjust according to different time zones of the users to ensure that all the participants of the meeting can be on time.
Final Thoughts
When you're running a business, you must continuously schedule appointments with your clients and prospects. To save time and utilize it efficiently, using handy scheduling and booking software like the ones mentioned above can assist you to a great extent. Hence, be sure to check them out and utilize them to your advantage.