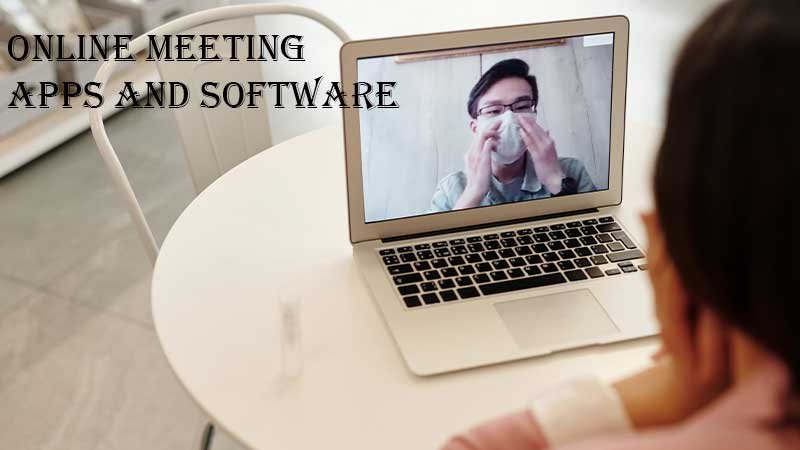 13 Online Meeting Apps and Software for Remote Teams
December 22, 2021
---
The days of internal meetings only happening in the office are long gone. Technological advances have created impressive improvements because of the COVID-19 pandemic. Because of this, the need to do more with less internal meeting attendance has tightened up. Online meeting apps and software have become must-have tools for companies of all sizes.
There is a wide range of cloud-based applications with features designed to make meetings better and more efficient. What works for one company may not work for another, but several online meeting apps can help any team get in sync. This post looks at 13 different online meeting apps and software for remote teams with varying functionality. 
Read This Also: 6 Must Have Software Solutions for Small Businesses
Microsoft Decisions' Meeting App
Decisions, the Microsoft-owned company behind the popular business app Flow, has introduced a new meeting application called Decisions. This meeting management software allows individuals to host, schedule, and participate in virtual sessions with their colleagues. All communications are encrypted for maximum security; end-to-end encryption keeps all data within the apps' walls.
One of the Decisions' best features is its compatibility with Cortana. Once you've downloaded the app to your PC or mobile device, users can simply say, "Hey Cortana, let's meet" to start an online meeting or call. There is even an option for admins to set up automatic meetings through Cortana commands.
Microsoft Teams
Microsoft Teams is the latest collaboration offering from Microsoft, and it's designed to get teams across an organization in sync. Microsoft has done an excellent job releasing while at the same time not displacing other apps like Yammer and SharePoint. All of these apps are interconnected, and that's by design. It sets it apart from other tools because it focuses on groups (teams), making team collaboration simple. It also includes group calling with high-definition video, web conferencing via meetings, and screen sharing capabilities.
Cisco Spark
Cisco Spark offers teams the ability to communicate through chat rooms while offering excellent features like recorded meetings for later consumption, full HD screen sharing, and a meeting scheduler. Several cool integrations are out of the box, including JIRA Cloud, Salesforce, and Box.com. It also features a decent analytics dashboard.
Slack
Slack has been a leader in the collaboration space for a few years now, and it continues to innovate with recent releases of new features, bots, and integrations. The company is also very focused on improving security by utilizing encryption technology to keep conversations safe from third parties. It's a solid tool for sharing files as well as creating team chat rooms via channels.
Google Meet
Google Meet has been around for a while, and it's slowly gaining momentum in the team collaboration space. With Google's acquisition of Quick Base, expect to see some more functionality released with this tool down the road. Google Meet also offers groups similar to Microsoft Teams, but users can make calls directly from their G Suite accounts which is nice if they are already signed into their account.
Zoho Meeting
Zoho Meeting is designed for both individuals and teams to get in sync. It offers high-definition screen sharing to host up to 300 people on a call, but it doesn't have video chat capabilities. It's also fully integrated with Zoho Docs so that files can be quickly accessed from within the application. One of its most unique features is its capability to capture whiteboard sessions and make them available after the meeting has been completed.
Adobe Connect
Adobe Connect has been around for years, and it's known as one of the best tools when you need to conduct large-scale online or offline training. The tool allows users to stream audio and web conferences directly into the application while integrating with training software. It offers several different audios and video codecs to choose from, so it's not only focused on screen sharing.
Uberconference
Uberconference is an excellent tool for teams that need to make group calls with individuals located in different places. It's easy-to-use, has integrated video chat capabilities, and allows users to hold group conference calls via phone or web. The company recently opened up its API, which will help lead to some exciting integrations in the future.
RingCentral Meetings
RingCentral Meetings offers an all-in-one online meeting solution that includes video conferencing tools, file sharing, screen sharing capabilities, and even audio conferencing via data lines or SIP trunks. Users can also schedule meetings easily through the platform, so it's well suited for managers or anyone else to collaborate in real-time on projects. It also offers mobile apps for both Android and iOS, which allow users to join meetings on the go.
TeamViewer
TeamViewer is a well-known tool to conduct online meetings with small teams for free. This tool has a maximum of five people, which means it's more ideal for ad hoc calls than scheduling recurring sessions. It also offers screen sharing and file transfers but doesn't have video chat support.
Yammer Meetings
Yammer Meetings is an excellent addition to the Yammer platform as it's meant to be used more as an ad hoc online meeting solution for teams rather than a comprehensive tool. It offers a simple interface with a chat sidebar and excellent audio tools for desktop or mobile devices users. Some excellent integration options are available with Microsoft Office 365, making this a valuable resource for communications within small teams.
Wistia Meet
Wistia is known for its video hosting services but recently released Wistia Meet, explicitly designed for online meetings. The tool can handle up to 250 people inside shared rooms, making it ideal for larger teams that need high-quality screen sharing and video chat capabilities. Like many other tools, it also offers file sharing and screen recording for sessions that have been completed.
ZOOM Video Conferencing
ZOOM is a popular online video meeting solution with several business customers worldwide. This tool focuses on video conferencing but has recently added phone support to its offerings, making it ideal for ad hoc calls or conference calls with an unlimited number of users involved. It offers screen sharing through the web app and mobile apps that support both Android and iOS devices. 
At some point, your business is likely to need online meetings. When that time comes, you should know which tools can help you accomplish that goal, along with keeping your data safe and secure during those sessions. The list above was created to give you some good options, including both free and premium products. Be sure to explore each one of them further so you can choose the right platform for your company.