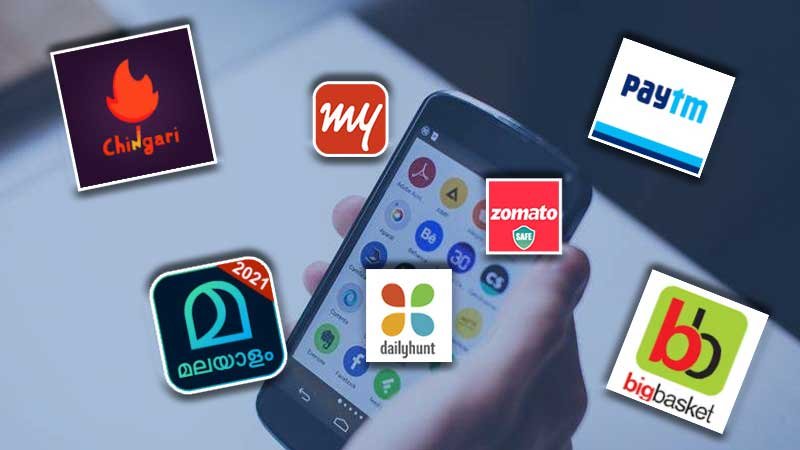 8 Popular Made in India Apps for your Smartphone
December 1, 2021
---
The mobile phone industry is growing fast, with India and becoming the world's fastest-growing mobile app in the past few years. The country has millions of users that are using smartphones, and sales of smartphones are also high. The mobile industry has pressured users to keep the latest trends and build amazing apps for Indian users.
India is a leading market that uses smartphones, and for that reason, you can discover a vast number of Indian apps. From entertainment to chatting and everything in between comes in a different language.
Popular India Made Apps for your Smartphone
Chingari
After banning Tik Tok in India, many developers introduced the same app as Tik Tok to create new competition, and the Chingari app is one of them. The app was created two years ago, but it captured popularity after the PM campaign of Atmanirbhar Bharat, and soon after, Tik Tok was banned in India. This app has users onboard, and it can easily access from the Google Play Store and Apple App Store. The campaign of the Atmanirbhar Bharat Chingari app secured the first rank in the social category.
Paytm
Obviously, in India, everybody knows about this app. If you are searching for one single platform for all your recharge, money transfer, ticket book, bill payment, and many other works, then Paytm is the most suitable choice you must go for. However, Paytm is linked to all stores, so you can easily make payments at local stores and many other utility stores. Paytm keeps adding new features and vendors, so the customer doesn't go anywhere for their other products and complete the payment.
However, with the first payment in Paytm, you will get some extra benefits that make you feel privileged. The app is also a payment bank registered under RBI, where you can have your savings account, get a debit card, and maintain a balance of up to Rs 1 00,000 or get interested in your deposits.
Malayalam Keyboard
This app is made in India for hassle-free chatting or typing in the Malayalam language. The feature of this keyboard is it is built with AI innovation, quick Malayalam voice typing with free trending Malayalam stickers, BigMoji's. The voice typing features on the Bharat keyboard make conversation in Malayalam super-fast for everyone. It follows the command of your voice. If your hands are busy with some work then you need to just simply speak. The keyboard will automatically type and do all your work as you say. The app also includes creative stickers and GIFs to send to your friends and family to make conversation fun and expressive.
Big Basket
If you look on the internet today for daily essentials, Big Basket is the Indian grocery store that will be the ultimate solution for you. You can pick over 20,000 products across different categories like fruits and vegetables, pet products, hygiene, home essentials, and beauty products in the big basket at a fantastic price. The app will also offer deals and discounts from time to time to make the customers happy. You can use multiple payment methods, and deliveries will be done on time, and you don't have to compromise on anything.
ShareChat and Moj
Other than Chingari, another famous India-based short video portal is ShareChat. There are many users of this app due to its regional language support. ShareChat is also testing Moj, the other short video platform in India. The app is ready to be available for download on Play Store; however, the official rollout is yet to happen. Moj is available in many languages such as Hindi, Telugu, Marathi, Gujarati, Punjabi, Malayalam, Bengali, Tamil, Kannada, and many other languages.
Make My Trip
This app is used for booking tickets of flights and other transport. Many people now prefer ticket booking from their homes, hotels, and holidays at the comfort of their homes; there, we need a platform like Make My Trip. It is the most helpful app for travel in India. The app features a friendly interface, and you will get some fantastic deals on Make My trip. If you want to do some urgent travel planning, then Make My Trip is the best app you can include on, and we should be proud of this world-class app made in India.
Also, Read This: Best 5 Apps to Track a Cell Phone Location for Free
Zomato
It is an Indian app in the food category. If you think you are a foodie and you love enjoying your favorite dishes and want to taste new ones and enjoy food at your home, then the Zomato app is made to serve your appetite. This is not a new app; everyone is unique, but people are not aware that it is made in India. With Zomato online, you can order your favorite meal from hundreds of restaurants near you at an affordable price. They also provide gold membership; in that subscription, you can enjoy some extra benefits, and it is a must if you order food daily.
DailyHunt
Keeping yourself updated with daily updates is always a novel idea, and the importance of a news app comes. However, many Indian news apps and websites are pretty famous, but Dailyhunt is one you can include. It is built in India, so this app emphasizes local news to inform you about what is happening near you. Furthermore, you will get information on your favorite subject topic from over 2500 media partners, and the app is accessible in 14 languages. The media partner also includes some international media agencies and local news that are famous in Indian states.
See this as well: Fun Prank Apps to Explore
Conclusion
The list of the made-in-India app does not end here. There are various Indian apps in different categories that include gaming, entertainment, utilities, payments, travel, food, and many others. Many people know about all apps, but few of them know that it is made in India. Even though the app is made in India, it also has some foreign shares, and apps depend on Foreign Service to operate. Depending on your language need, you can also use Hindi Keyboard online made in India; that app helps you type your language quickly.